Reopening China: data indicates outbound travel rebound
Updated 29 Mar 2023 by Sabre Corporation, shared on eHotelier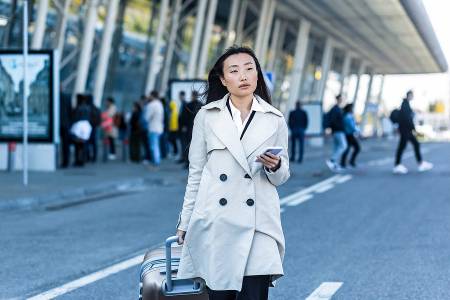 With more than 166 million international trips booked by Chinese travelers in 2019, contributing over $245 billion to global tourism in the process, it is no wonder that the world has been watching, and waiting, for China to re-open its borders, after nearly three years of Covid-19 closure.
Now that China has started to finally ease travel restrictions, Sabre has sifted through its extensive shopping and booking data to examine the impact of the reopening through February 9, 2023 on tourism in China, and globally. Key findings, following re-opening announcements on December 26, January 8, and January 20, include:
A significant spike in shopping queries and requests, particularly for the outbound tourism industry;
Strong demand among Chinese travelers for trips despite high air fares, with fares peaking at more than 2x in January, and 1.5x in February when compared to pre-pandemic prices;
Demand is outstripping supply with Chinese airlines leading capacity growth;
New booking habits suggest long-term travel confidence.
A surge in search and booking requests
Sabre's shopping insights revealed that interest in inbound and outbound China routes surged in the week of 26 December, when China first announced plans to drop quarantine for overseas visitors, and again when mainland China reopened sea and land crossings with Hong Kong on 8 January.
Weekly searches for China-related routes (including the Special Administrative Regions of Hong Kong and Macau) have been increasing steadily after the announcements, and average weekly searches in the first 5 weeks of 2023 through to February 5, 2023 have been 78% higher compared to average weekly searches in Q4 2022.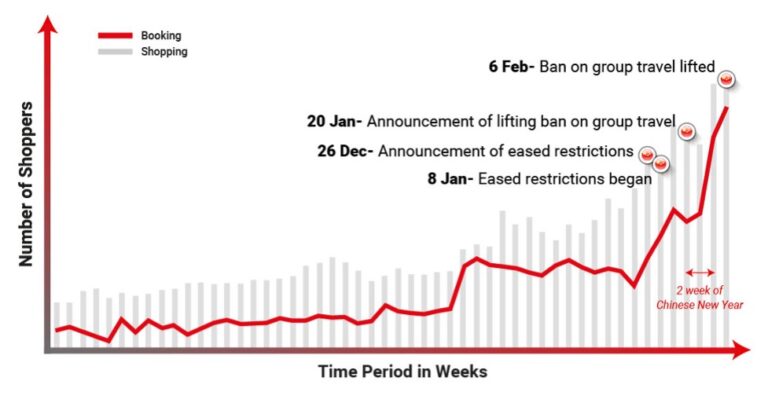 Increase in searches (grey) & bookings (red) through February 6 for inbound & outbound China routes
Interest rose immediately after the announcement at the end of last year that China would re-open its borders. On January 8, China then opened sea and land crossings with Hong Kong, and ended a requirement for incoming travelers to quarantine, leading to another immediate increase in search and shopping requests, as travellers in China, many of whom hadn't been able to visit family for years as a result of China's previous zero-Covid policy, rushed to make bookings.
Another key factor, which has accelerated travel interest in the region, was the celebration of the first Chinese New Year without travel restrictions, with high levels of outbound, inbound, and domestic travel indicating strong travel demand and confidence in China.
On January 20, it was announced that the ban imposed on group travel would end on February 6. Bookings began to rise significantly, especially between January 30 – February 5, with bookings increasing 60% from average bookings in the previous 2 weeks.
Strong outbound bookings but inbound tourism remains stymied
The re-opening of China is already proving to be a key win for tourism recovery, and potentially providing economic growth, within the Asia Pacific region. In general, outbound travel has rebounded faster than inbound travel to the region, with Sabre data showing outbound bookings making up 43.5% of 2023 overall travel through February 9, compared to 37% for the same period in 2019.
As of February 9, Japan, Thailand and Korea are the top three destinations for Chinese outbound travel in 2023, with Korea rising to the 3rd spot from 5th in the same time in 2019. Bookings for the United Kingdom, Thailand and Philippines have bounced back the fastest versus bookings made in the same period in 2019. Indonesia, a top outbound destination in 2019, lost its spot in the top 10 to the Philippines.

Top outbound destinations based on bookings by February 9
It was reported that Indonesia slowed down on promoting their destination to China travelers during the pandemic, possibly impacting Indonesia's position in the list. Australia's fall to 9th place may have been impacted by measures implemented on travel inbound from China.
However, while outbound travel is enjoying a strong rebound, restrictions in place for inbound travel appear to be limiting inbound travel recovery.
Long-awaited reunions fueling inbound bookings
Sabre's booking data shows that the largest sources of inbound travel for China so far in 2023 are Taiwan, the United States, Thailand, Korea, the United Kingdom and Canada, with Thailand, the United Kingdom, and Canada bouncing back fastest in terms of recovery, as of February 9.
Given that inbound travelers must be holding a valid permit for work, study or reunion, a diplomatic visa or valid business cards, it is possible that one of the main motivations for inbound travel is for long-awaited family reunions, following the lengthy lockdown period. This generally aligns with population figures released in 2021, which showed countries with the largest number of overseas nationals were based in Thailand, Canada, and the United Kingdom.
Outbound travelers are also opting for longer stays, with the share of trips longer than two weeks increasing from 14% to 21%, when comparing 2019 to 2023 (through February 9). This could be due to travelers visiting family opting to make the most out of their trip after lengthy periods apart.
Long-term travel confidence and new booking habits
Although there is still some way to go before all travel restrictions are lifted for travel to and from China, Sabre data indicates the potential for long-term travel confidence. Booking windows can be a key confidence metric, as travelers are often happier to book further out if they feel confident about their plans.
As of February 5, 33% of all inbound bookings and 43% of all outbound bookings were made more than two months in advance, showing that there was a likely expectation that travel restrictions may ease further in the next two months and beyond. There were only 21% of outbound and 14% of inbound bookings made for travel within 2 weeks, versus 37% and 30% in the same period in 2019.
Travelers appear to be planning further ahead now, when compared to 2019 where there were more last-minute bookings. This may be due to new booking habits learned from the Covid-19 pandemic, where travelers have gotten used to pre-planning instead of impromptu trips, or the fact that capacity for China routes have yet to recover to pre-pandemic levels and there are fewer available for last-minute bookings.
Bookings are also slowly recovering to what we saw pre-pandemic, with outbound travel bookings made by February 9 for travel in first week of April reaching 70% of passenger bookings made by February 9 in 2019.
Demand outstrips supply and fare prices remain high
As of February 6, airline capacity for international routes to and from China (including Hong Kong and Macau) has recovered to only around 27%, compared to Q1 2019, with capacities expected to increase from April onwards.
Currently, most of the scheduled capacity is coming from Greater China airlines, along with carriers in Japan, Korea and Taiwan. Chinese airlines hold more than two thirds (65%) of total international route capacity, versus 60% in 2019. Global (non-Chinese) airlines have yet to add significant capacity for China, and SEA airlines also hold only 12% of international capacity for China, compared to 16% in 2019.
With what appears to be a slow recovery for capacity, Sabre ticketing data indicates that ticket prices for top Greater China inbound and outbound routes are reported to be higher compared to prices in 2019, with ticket sales increasing since September 2022. As airlines have begun to add in capacity, prices have lowered slightly to around 1.5 times pre-pandemic prices in February versus 2 times in January. Prices are however expected to remain higher until supply has been fully restored on the capacity front.
As demand has outweighed supply, resulting in higher prices, passengers appear to remain keen to fly, and are proving to be less price sensitive, possibly due to the "revenge travel" phenomenon resulting from the long lockdown period.
"The speed with which Chinese tourism started to rebound as soon as the announcements were made that restrictions were to be lifted demonstrates how high travel demand is for both inbound and outbound trips," said Darren Rickey, Senior Vice President, Airline Global Sales, Sabre. "We know that airlines in China have been preparing for re-opening by ensuring they have the support of Sabre's advanced technology to quickly respond to evolving industry conditions, to capitalize on recovery trends, and create their own growth momentum. We're now excited to see what the rest of the year holds for Chinese travel."